Our Stories
Cardio-Oncology Program
Dr. Qin Li & Julie's
Better Care Story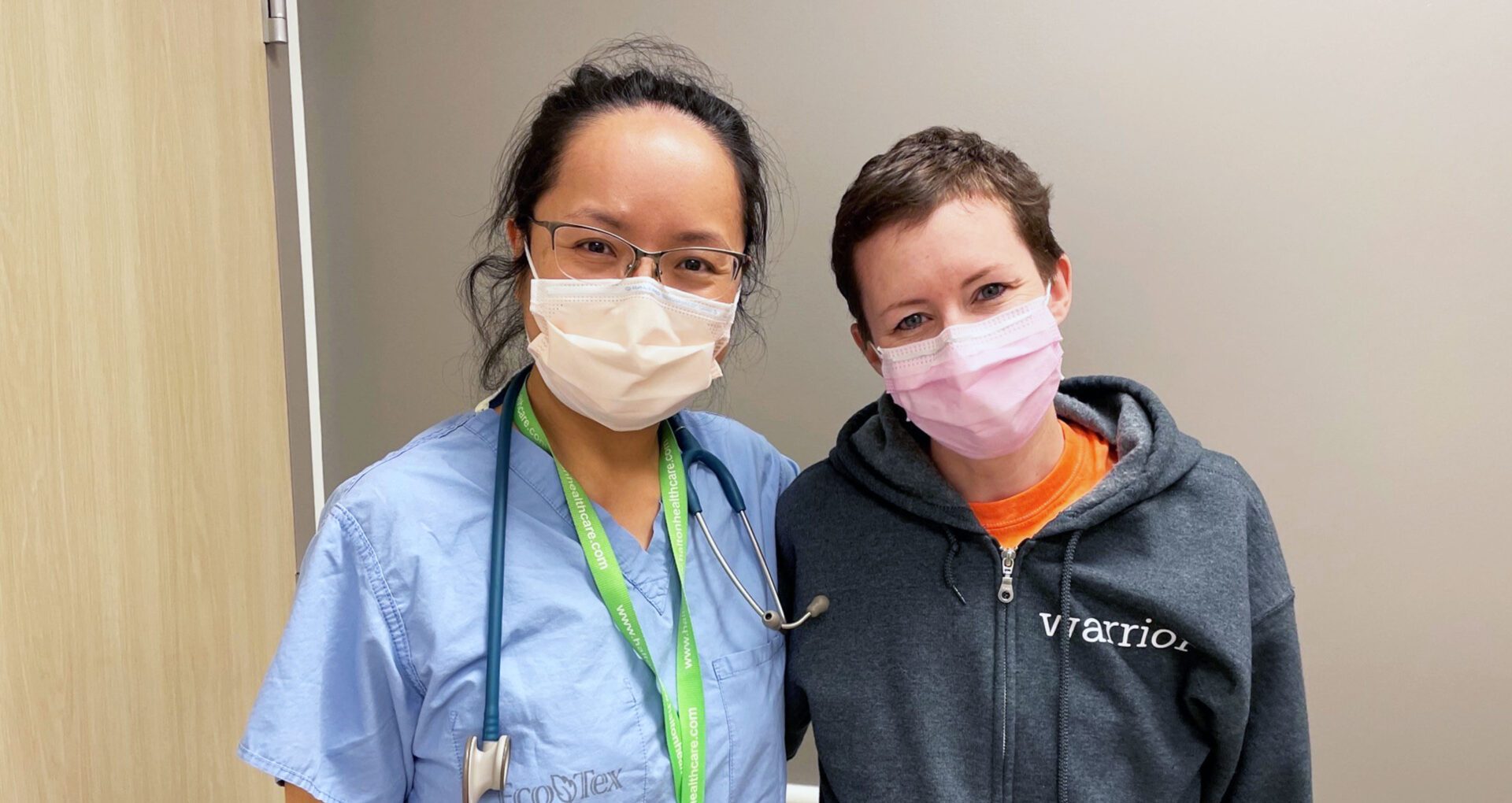 The diagnosis caught 43-year-old Julie by surprise.
Julie thought her doctors were just being extra cautious when they sent her for a biopsy. She had the test and tried not to worry. And then Julie got a call from her family doctor. She had breast cancer.
"l wasn't expecting it," Julie admits. "I'm too young. I want to be here for my five kids. My biggest fear was dying. You hear the word 'cancer' and you think the worst."
Julie started chemotherapy and was doing well. She was the fittest she'd ever been when she was diagnosed. And, she continued to work out and remain active throughout her first round of treatment. Julie thought her heart was strong.
But, her oncologist, Dr. Ketan Ghate, knew that Julie's chemotherapy posed a potential risk to her cardiovascular function. As you may recall from his recent letter, many cancer treatments can have a negative cardiovascular impact even on fit and healthy patients like Julie.
That's why from the beginning of her treatment, Dr. Ghate sent Julie for several echocardiograms through Oakville Trafalgar Memorial Hospital's Cardio-Oncology Program. The goal was to monitor her heart and catch any potential issues as quickly as possible.
The echocardiogram soon picked up a reduction in Julie's heart function and Dr. Ghate started her on medication. He also referred her to me – a cardiologist with the Cardio-Oncology Program. Dr. Ghate and I immediately joined forces to treat Julie together. After all, caring for cancer patients at OTMH takes a team approach.
With your ongoing support, you too are a valuable member of our team. Your generosity is a big part of the reason we can establish programs like Cardio-Oncology and take a multidisciplinary, proactive approach to caring for cancer patients like Julie, close to home.
This festive season, I hope you'll increase your support. Your special, holiday gift by December 31st will help keep our innovative Cardio-Oncology Program up and running, giving Julie and many others their best chance for a healthy, active future. It will also help fund new equipment, cutting-edge technology and the very latest treatments and care in every area of our hospital.
Just like I do for every patient in the Cardio-Oncology Program, I kept a close eye on Julie's cardiovascular function. I also put her on a second medication to protect her heart.
I'm so grateful my doctors caught the issue early," says Julie. "If they hadn't taken a proactive approach to my care, there could have been significant, permanent damage to my heart.
Sadly, that's true. A cardiovascular issue like Julie's can be life-long and limit day to day activities if it isn't treated quickly and carefully monitored. It can also cause a delay to lifesaving cancer treatment.
"There was a possibility I might have to pause or even stop my treatment if my heart function continued to drop," Julie says. "That was a scary thought. I knew how important the treatment was to my survival and I was only at the beginning of it."
Thankfully, the medication I prescribed did its job and Julie was able to continue with her cancer treatment, uninterrupted, at OTMH.
"I had access to all the care I needed close to home and that was huge for me. With three of my kids still young, it made my life less stressful and much more manageable," Julie says. "I can't say enough good things about all the people at OTMH who made my journey so much easier."
Julie's words mean a lot to me and I hope they mean a lot to you too. Thanks to your support, patients like Julie have access to equipment like our state-of-the-art echocardiogram machines. They have access to vital programs like our Cardio-Oncology Program which can make a critical impact to their survival and quality of life.
Caring for cancer patients like Julie takes a team approach.
Dr. Qin Li
Cardiologist
Oakville Trafalgar Memorial Hospital
---
Share your better care story.