Our Stories
Remembering Betty Birmingham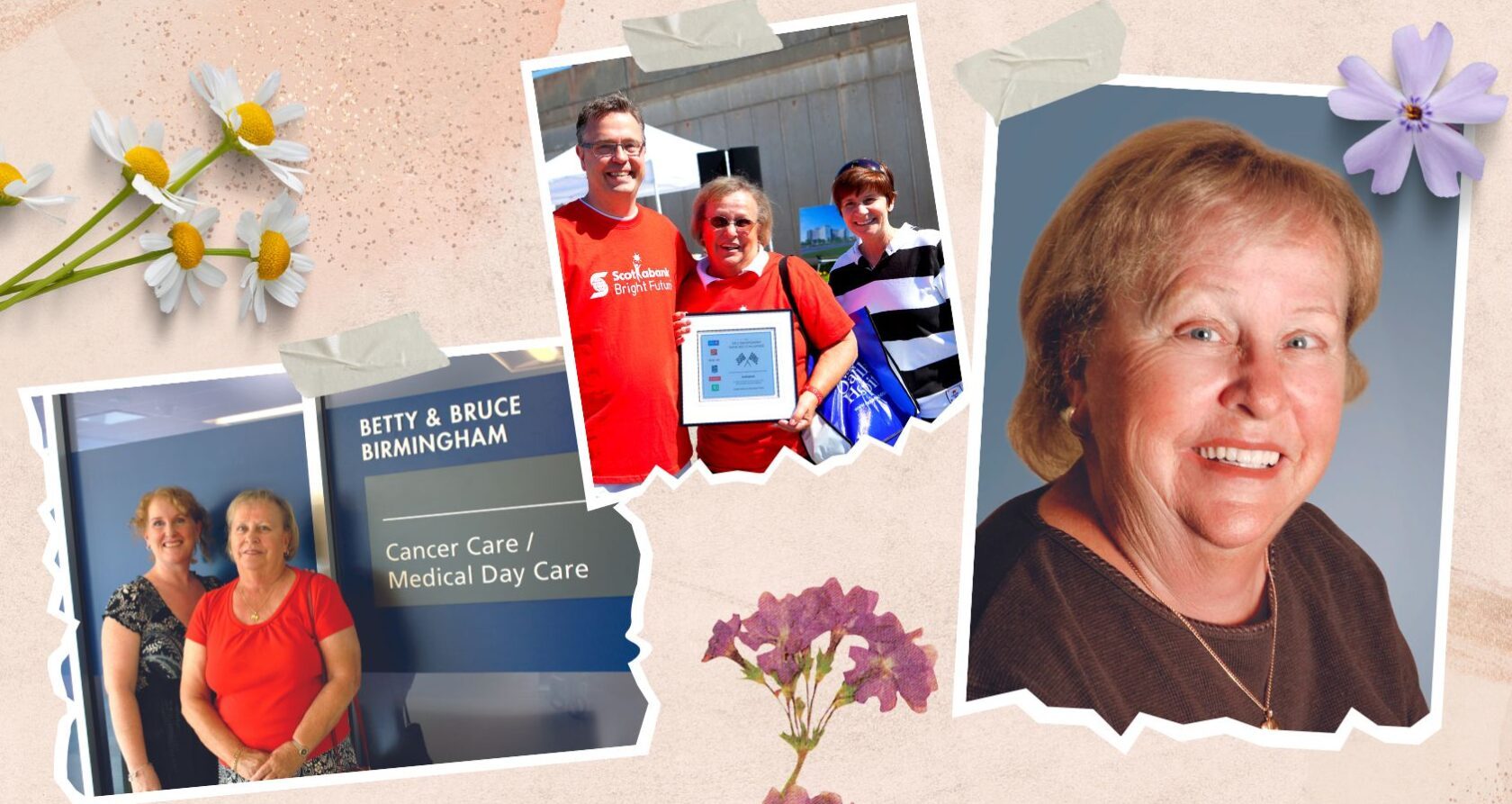 May 25, 2023 – Oakville Hospital Foundation remembers Betty Birmingham, a cherished member of our community, a devoted philanthropist and loyal supporter of the Oakville Hospital Foundation.
Together with her late husband Bruce, Betty's unwavering commitment to Oakville Trafalgar Memorial Hospital (OTMH) made a profound impact on patient care in Oakville and Halton region. Over four decades, the Birmingham's visionary philanthropy advanced care in areas such as oncology, surgery, laboratory, diagnostic imaging, and the emergency department. They always recognized the need to support their local community hospital and put their considerable energies behind it, inspiring others to follow their lead. Bruce created the Bank Bed Challenge encouraging the local banks to compete against each other to raise funds for patient beds for OTMH and Betty continued to passionately champion this initiative after Bruce's passing. She was also a driving force behind the New Oakville Hospital campaign as both a lead donor and honourary co-chair of the campaign cabinet.
A donor for more than 35 years, Betty's enduring legacy at OTMH will always be her steadfast commitment to improving local access to cancer care services. Her philanthropy transformed cancer care in Oakville and was instrumental in establishing OTMH's Cancer Care Clinic, a department named in honour of Betty and Bruce. She continued to passionately support the Cancer Clinic at OTMH after it opened in 2016, most recently with the establishment of the Breast Diagnostic Assessment Program and the expansion of the Cancer Clinic Pharmacy.
Betty possessed a true philanthropic spirit. Her charitable giving extended across local, regional, and national levels, encompassing healthcare, education, sports, arts, and social services. With strength and compassion, she helped bring about tangible change to profoundly improve the lives of countless individuals. Her generosity has and will continue to touch all of us in Oakville.
Testimonials
Betty has left an indelible mark on our Cancer Clinic department. Betty understood that everyone has a part to play in supporting their local community, and she led by example. We are forever grateful for her leadership support and we will continue to honour her memory by carrying forward her vision of compassionate care and community empowerment.
It is with deep gratitude and heartfelt appreciation that we pay tribute to Betty for the incredible impact she made on the healthcare of our community. Her generous spirit through numerous gifts to Oakville Trafalgar Memorial Hospital has sparked transformative changes over the years. Betty's dedicated support truly made a life-saving difference in the lives of so many.
On behalf of the Cancer program at Halton Healthcare, we send our condolences to Betty's family and friends. Her generosity and support of the cancer program was greatly appreciated and will not be forgotten.
Betty was always excited to know the impact of her giving and over the years she came to know and understand the needs of the nurses, doctors and techs at OTMH who used the equipment she funded. Having shared in her excitement for 13 years our connection grew into a great friendship that continued until her passing. Betty transformed healthcare for the community of Oakville in a profound way, and my gratitude for her generosity, and our friendship, is enduring.